Discount Coupon for Smog Check & Test Only Center
Does your vehicle need a STAR certified smog, smog test only center, or regular smog station... not sure which?
Our Tustin Smog Check Station has you covered. We are a Star Certified Smog check station as well as Test only. STAR stations are allowed to perform regular and STAR smog checks.
RIGHT CLICK THE MOUSE ON THE PAGE AND CHOOSE THE PRINT OPTION.

BRING THE PRINTED PAGE WITH YOUR CAR FOR THE EXTRA SPECIAL SAVING!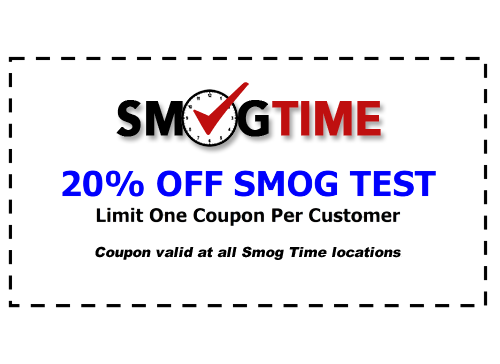 THIS 20% OFF SMOG COUPON IS GOOD
FOR ANY REGULAR PRICED SMOG plus
$8.25 Per Certificate
Vans and Trucks Extra. Must Present Coupon for discount. Not valid with any other offer.
Located in beautiful Tustin, where in 1801, the Spanish Empire granted 62,500 acres (253 km2) to Jose Antonio Yorba, which he named Rancho San Antonio. Yorba's great rancho included the lands where the cities of Olive, Orange, Villa Park, Santa Ana, Tustin, Costa Mesa and Newport Beach stand today. Smaller ranchos evolved from this large rancho including the Rancho Santiago de Santa Ana.
Tustin continues to be a discernible entity, characterized physically by its strategic crossroads location, the former Marine Corps Air Station, Tustin, (closed in July 1999), hillside areas which offer sweeping panoramic views of the Pacific Coast and Saddleback Mountains, prime commercial, industrial, and residential development, and one of the oldest historical "old towns" in Orange County. These significant natural and man-made characteristics provide a commonly acknowledged basis for a "sense of place".