DMV Registration Services
We are a DMV licensed vehicle registration center that can provide on-site, same day registration services such as Vehicle Registration Renewal, Title Transfers, and License Plate Stickers.
You can stop by our Irvine Smog Check station to take care of DMV transactions, even on Saturdays. Renew your registration and get your sticker instantly. Transfer ownership for used vehicles, including boats, motorcycles and trailers. File a change of address. It's easy and saves time.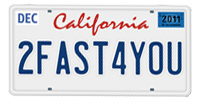 DMV Registration Renewals
Renew your DMV registration.
Receive your new stickers immediately on-site.
No waiting in long DMV lines.
We can process your registration renewal even if you don't need a smog test.
Vehicle Title Transfers
Tile transfers.
Out of State Title Transfers.
License Plate Issuance
Processed at our location and you receive your new license plates immediately.