Discount Coupons for Smog Check & Test Only Center, Oil Change and Brake Repair.
Does your vehicle need a STAR certified smog, smog test only center, or regular smog station... not sure which?
Our Irvine Smog Check Station has you covered. We are a Star Certified Smog check station as well as Test only. STAR stations are allowed to perform regular and STAR smog checks.
RIGHT CLICK THE MOUSE ON THE PAGE AND CHOOSE THE PRINT OPTION.

BRING THE PRINTED PAGE WITH YOUR CAR FOR THE EXTRA SPECIAL SAVING!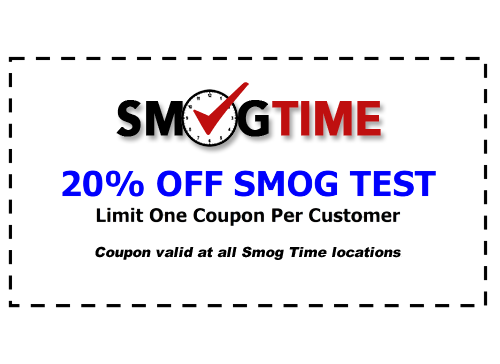 THIS 20% OFF SMOG COUPON IS GOOD
FOR ANY REGULAR PRICED SMOG plus
$8.25 Per Certificate
Vans and Trucks Extra. Must Present Coupon for discount. Not valid with any other offer.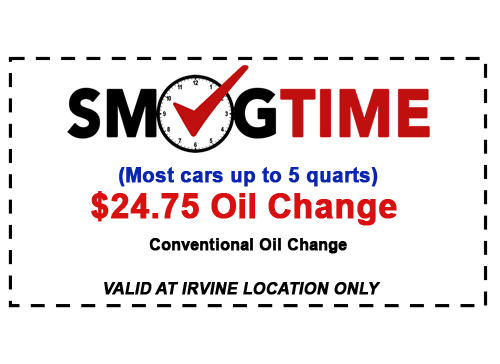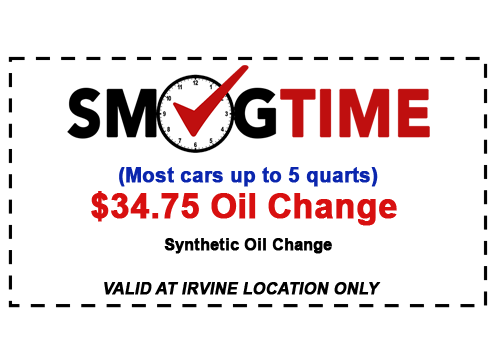 Located in beautiful Irvine which was originally inhabited by the Gabrieleño indigenous group about 2,000 years ago. Gaspar de Portolà, a Spanish explorer, came to the area in 1769. This brought on the establishment of forts, missions and herds of cattle. The King of Spain parceled out land for missions and private use. In 1878, James Irvine acquired his partners' interests for $150,000. His 110,000 acres (450 km2) stretched 23 miles (37 km) from the Pacific Ocean to the Santa Ana River. James Irvine died in 1886. The ranch was inherited by his son, James Irvine, Jr., who incorporated it into The Irvine Company. James, Jr. shifted the ranch operations to field crops, olive and citrus crops.
Irvine borders Tustin to the north, Santa Ana to the northwest, Lake Forest to the east, Laguna Hills onto the southeast, Costa Mesa to the west, and Newport Beach to the southwest. San Diego Creek, which flows northeast into Upper Newport Bay, is the primary watercourse draining the city. Its largest tributary is Peters Canyon Wash. Most of Irvine is in a broad, flat valley between Loma Ridge in the north and San Joaquin Hills in the south. In the extreme northern and southern areas, however, are several hills, plateaus and canyons.